Your Care Plus is an engaging health management platform offering wellbeing products and services with a focus on positive, proactive care

As the gateway to a happier, healthier workforce, Your Care Plus delivers evidence-based interventions and support tools designed to help build mental resilience, strengthen your people's emotional, physical, and financial wellbeing, and enable them to live their best lives both in and out of the workplace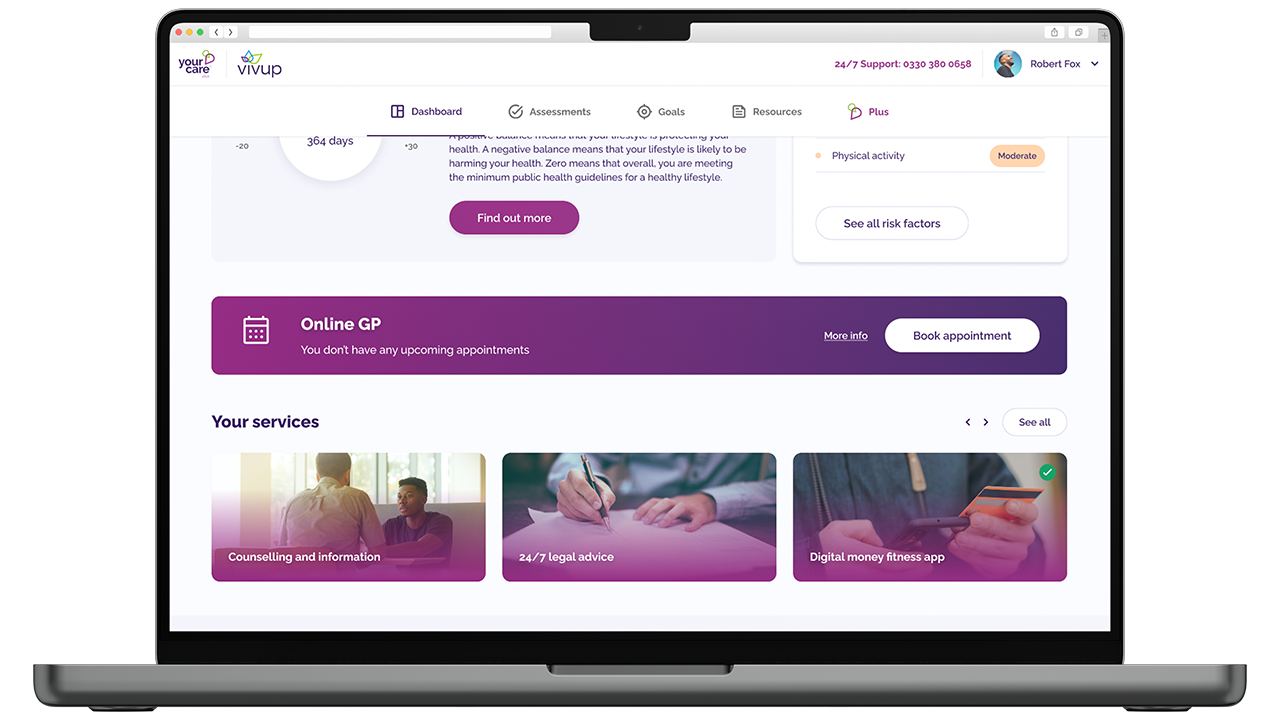 Access to support and counselling - 24/7, 365 days a year
Wellbeing assessments
Personal goal setting
Connectivity to health and fitness apps
Access to a wide range of wellbeing resources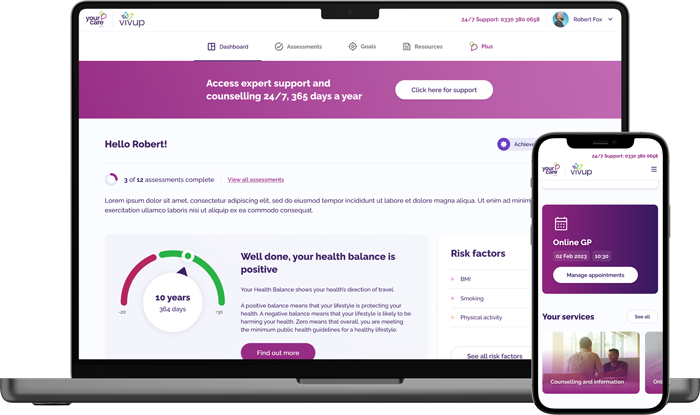 With
Your Care Plus

your people will benefit from access to these wellbeing services:

Financial Wellbeing
Maji* is a complete financial wellbeing and money management platform enabling you to track and improve the financial wellbeing of your employees

Confidential Support
Togetherall* is a clinically managed online community designed to improve mental wellbeing. The platform provides anonymous, peer-to-peer support to enable as many people as possible to benefit from instant, easy-access support as and when they need it

Online GP
An online GP providing access to registered GPs for advice, diagnosis, and, where appropriate, onward referral. Telephone consultations are available 24/7, with video consultations available 8am to 10pm excluding UK bank holidays

Legal Assistance
Helpline offering advice and assistance on any personal legal query or problem

Financial Support
Turn2us* is a national charity that provides practical information and support to people facing income shocks and financial insecurity

Counselling and Information
Access to professional Counselling Services that offer a range of confidential interventions and treatment pathways for your people
* YourCare suppliers are accurate at the time of this material and are subject to change. Vivup reserves the right to change the offers, terms, and suppliers at any time. Terms and Conditions may apply for any third-party suppliers.
The Benefits for Employers
Your Care can help your organisation with:
Building a company culture centred around wellbeing and proactive care

Increasing employee health, motivation and happiness

Gaining meaningful data insights to inform your company wellbeing strategy
The Benefits for Employees
Plus, your employees will benefit from:
Assessments to identify the risk of developing any of the five leading lifestyle-related diseases, along with mental wellbeing and financial scores

Goals created to boost health and happiness, with recommended small sustainable lifestyle changes

Activity data synced from their health and fitness apps

Access to various resources, including blogs, videos, recipes and more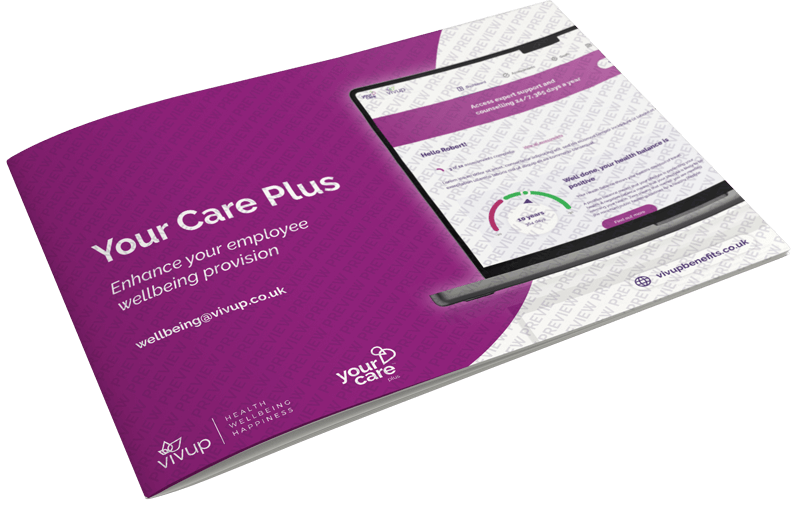 Your Care Plus Brochure
Download our brochure today!
Who are Vivup?
As a leading employee benefits provider, we deliver an employee engagement platform that connects workforces, improves employee wellbeing and boosts loyalty
We currently deliver comprehensive health and wellbeing benefits to: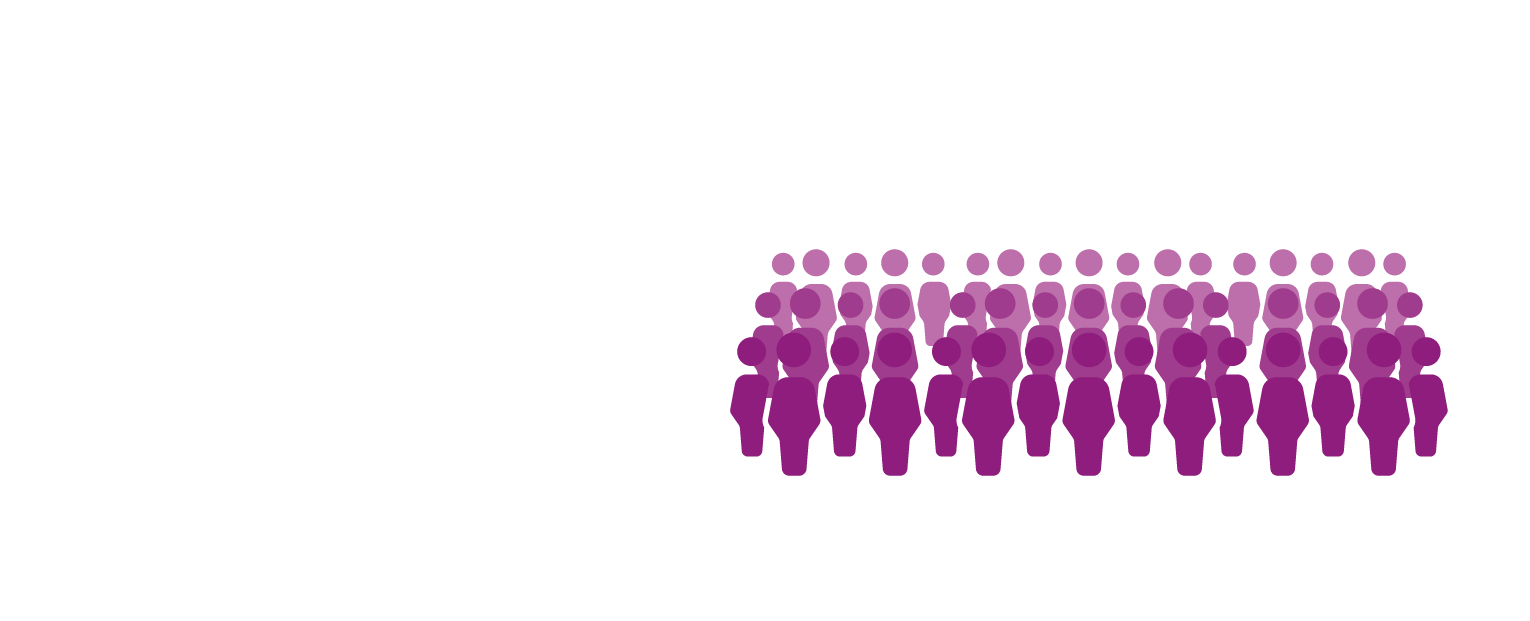 Start improving your employee wellbeing today
To find out more about how Vivup can benefit your business, request a demo to get started today