Commitment
Vivup (SME HCI Limited) is committed to achieving Net Zero emissions by 2040.
Baseline Emissions Footprint
Baseline emissions are a record of the greenhouse gases that have been produced in the past and were produced prior to the introduction of any strategies to reduce emissions. Baseline emissions are the reference point against which emissions reduction can be measured. This Carbon Footprint Plan (CRP) is the baseline year January 2022 – December 2022.
Baseline Year: 2022

Additional Details relating to the Baseline Emissions calculations:

The following Scope 3 Emissions were measured:

Purchased Goods & Services
Capital Goods
Fuel & Energy Related Activities
Business Travel
Transportation & Distribution (Downstream)
Transportation & Distribution (Upstream)
Employee Commuting & Homeworking
Operational Waste

Baseline year emissions: 2022

Emissions

Total (tCO2e)

Scope 1

0.345

Scope 2

0.021

Scope 3

701.421

Total Emissions

701.787
Current Emissions Reporting
Reporting Year: 2022

Emissions

Total (tCO2e)

Scope 1

0.345

Scope 2

0.021

Scope 3

701.421

Total Emissions

701.787
This equates to a Carbon Intensity per employee of 5.12 tCO2e based upon 137 employees during the measurement period.

Emissions reduction targets
Vivup (SME HCI Limited) is committed to achieving Net Zero by 2040.
As this is our first Carbon Reduction Plan, there are no existing carbon emission reduction targets against which to report progress.
To progress towards Net Zero, this plan sets carbon reduction targets for the 7-year period to 2030. During this time, targets will be set for the remaining period to ensure Net Zero will be achieved by 2040.
Carbon Reduction Projects
Completed Carbon Reduction Initiatives
The following environmental management measures and projects have been completed or implemented since the 2022 baseline.
Activity

Complete Date

Scope

Commit to measuring carbon footprint of business activities year on year to gain an understanding of pinch points and regularly be making efficient and direct improvements to reduce these emissions.

Year 1 appointed Positive Planet to support with calculating baseline carbon footprint and reduction recommendations.

2023

1,2,3

Created a Social Value Steering Group to lead initiatives. This team has been made up of members of different departments to support the role out of sustainable ideas organisational wide.

2023

1,2,3

Partnered with On hand, an employee volunteering app, to encourage employees to make choices in their daily lives that reduce carbon emissions. Participation is encouraged through comms and a leader board

2022

1,2,3
Projected carbon reduction target to net zero in 2040 can be seen in the graph below.
As Vivup are fully remote, we do not own property or measure individual household waste.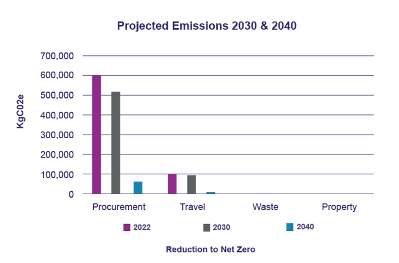 Future Carbon Reduction Plans
Future Carbon reduction measures planned to 2030:
Reduction Plans

Activity No.

Activity

Target Date

tCO2e Reduction %

Scope

1

Training and engagement for Social Value Team to lead on, this should be aligned with current goals to support environmental impact plans) Including and not limited to, creating spaces for environmental positive conversations (internal comms, newsletters, Teams etc), certified Carbon Literacy Training for all applicable to roll out to further workforce and share with externals where appropriate.

2023

5-15%

(Per Individual Certified)

1,2,3

2

Add a statement to internal business travel policy to support environmental impact of choices when travelling, staying in hotels and commuting. The priorities within this policy will support active travel and low emission travel options where appropriate.

Monitor and consider alternatives to air-travel as a priority and commit to offering support to workforce with options for active travel schemes; such as bike to work or car sharing opportunities (where appropriate) or internal carbon credit setting to support unavoidable travel.

Utilising technology to support meetings to offer more flexibility to clients and to own internal workforce.

2024

6%

3

3

Explore and comment to a strategy to understand pinch points within supply chain and gain further granular detail within each area.

Engage and focus on supply chain analysis in two phases ensuring the messaging is inclusive to use as a global standard. This includes statements and policies that align with CDP.

Phase 1 - Survey long standing suppliers and gain further granular information in regard to their targets and commitments – once data is collated, score these suppliers to create informed decisions for the future. Considerations include their Net Zero strategy, transparency, and their ethical credentials.

Phase 2 - Create a global policy strategy for preferred spend with local and informed suppliers within the chain. Support or encourage suppliers that are not as informed to commit to robust targets.

Align with Exponential Roadmap for further support.

2026

13%

3
Based upon the above completed and planned initiatives, it is projected that carbon emissions will decrease over the next five years from the current normalised measurement of 701.787 tCO2e to 615.237 tCO2e up to 2030. This is a reduction of 12.33%
Declaration and Sign Off
This Carbon Reduction Plan has been completed, with the assistance of Positive Planet, in accordance with PPN 06/21 and associated guidance and reporting standard for Carbon Reduction Plans.
Emissions have been reported and recorded in accordance with the published reporting standard for Carbon Reduction Plans and the GHG Reporting Protocol corporate standard1 and uses the appropriate Government emission conversion factors for greenhouse gas company reporting2.
This Carbon Reduction Plan has been reviewed and approved by Vivup (SME HCI Limited) Executive Team.
Signed on behalf of Vivup SME HCI Limited: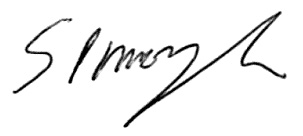 Name: Simon Moyle
Position: CEO
Date: 12/04/2023
Start improving your employee wellbeing today
To find out more about how Vivup can benefit your business, request a demo to get started today