Where Employee Benefits Mean More
As a leading employee benefits and wellbeing provider, we deliver a comprehensive employee benefits platform that connects your workforce, boosts wellbeing, and helps you experience your people's true potential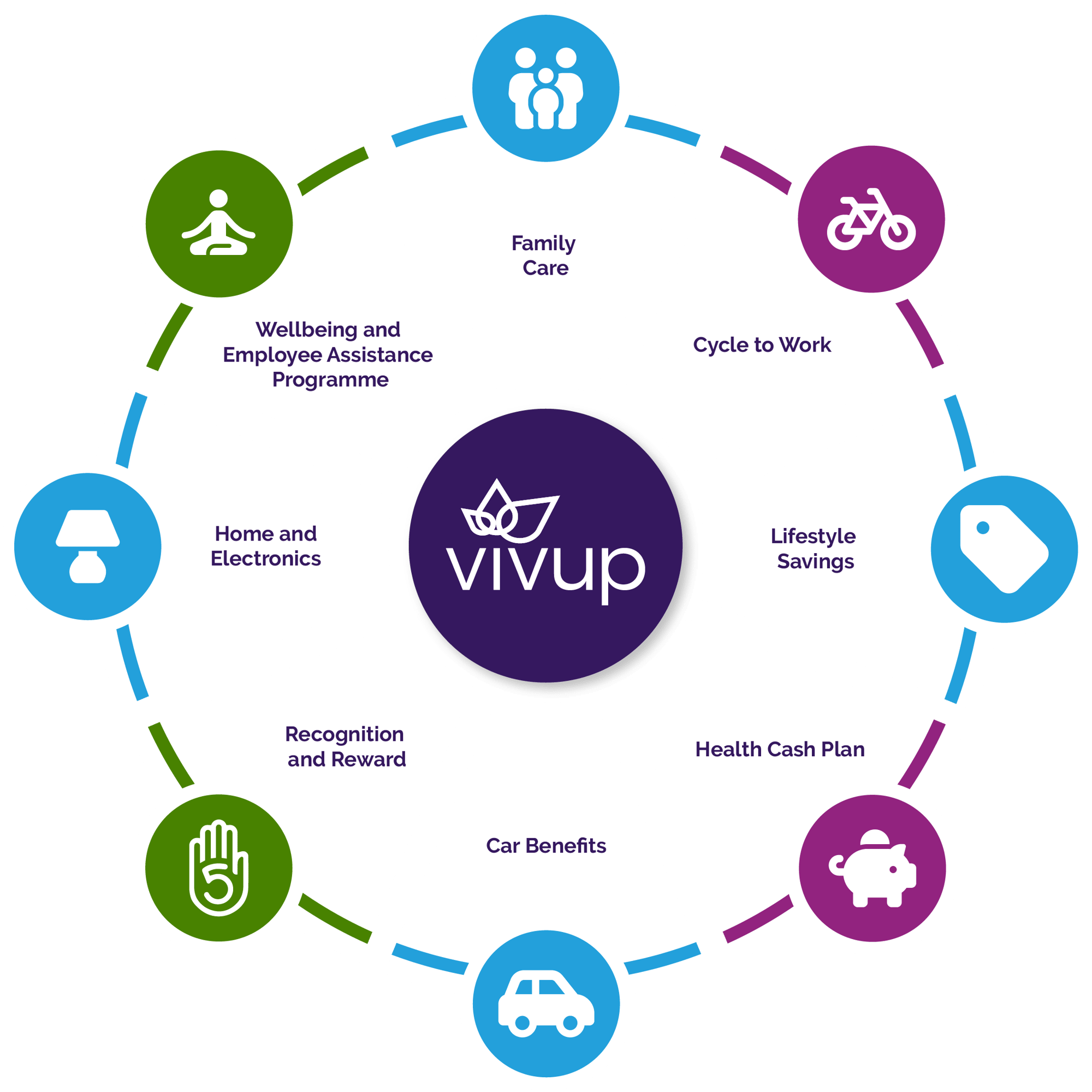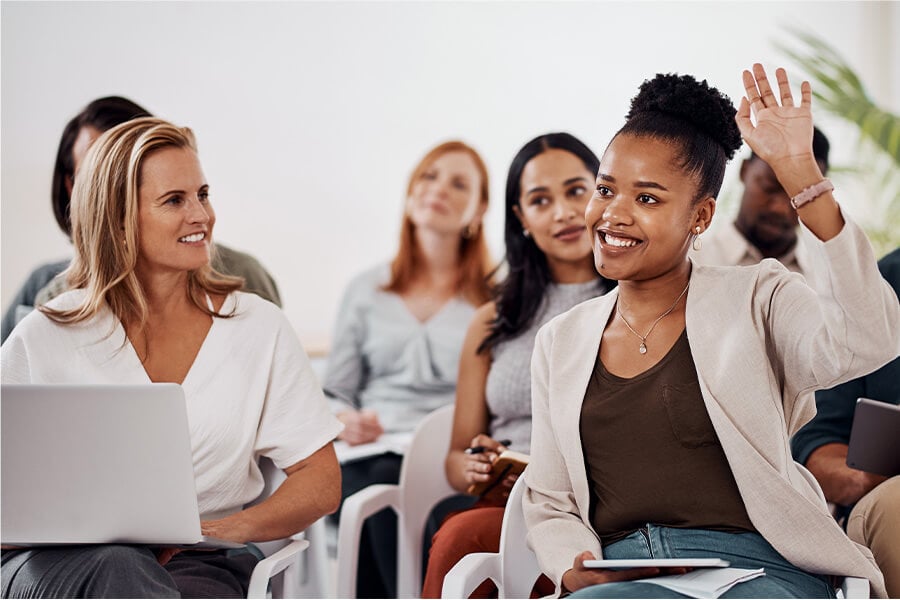 Benefits for your Business
Reduce employee absenteeism
Preventative and in-the-moment mental health provision and strategy
Build a happy and productive workforce
Boost employee engagement and motivation
Help employees with the cost of living
Improve employee retention and recruit game-changing talent
Increase organisational savings
Support green initiatives
Maximise motivation for hybrid/remote working















Benefits for your People
Access to meaningful employee benefits that make a difference
Holistic support for mental, physical, and financial wellbeing
Over 1,150 retailer discounts to support with the rising cost of living
Morale-boosting recognition through Vivup highfive
42%* savings on bikes and safety equipment for healthier commutes
Ability to spread the cost on everyday home and electronic items**
Motoring on fully insured cars for a fixed monthly amount
Money back on medical costs with our Health Cash Plan***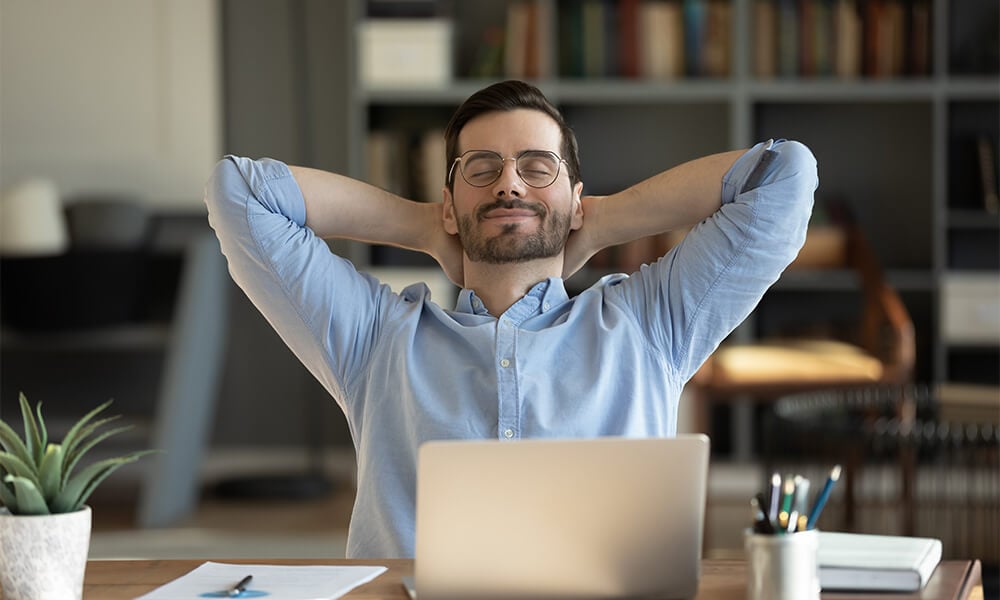 *Excluding end of agreement fee (if applicable). Savings are realised through a salary sacrifice arrangement. Figures are a guide only and dependent on personal situation. Terms and conditions apply.
** Home and Electronics is provided by a salary sacrifice arrangement. Terms and conditions apply.
***Benefits are payable according to the benefit schedule up to the maximum benefit per Insured Person in each Scheme. Exclusions may apply.
Vivup Insights Sessions
Join one of our exciting Insights Sessions to learn more about our benefits and how businesses across the UK are using Vivup to solve the challenges being faced by HR leaders right now
Our Solutions
Vivup's online benefits platform empowers your team to enjoy a comprehensive suite of benefits whenever, and wherever, they need support
Why HR Leaders Choose Vivup
Because we make your staff happier. And happy employees mean more productivity, better engagement, and positive business progress
+
lifestyle discounts available
"The implementation team with Vivup have been fantastic - so proactive, supportive and really responsive. It's been a pleasure working together to get the platform launched. The follow up post-launch has been great too, to ensure we keep up the momentum and make the most out of Vivup."
Academy Transformation Trust

"The team at Vivup have been fantastic at getting us onboarded and live with our new employee benefits portal. They have made it really easy for us to launch a fantastic range of new products and are on hand if we need to ask for any assistance. I would strongly recommend!!"
Inspiring Healthy Lifestyles

"Vivup have been excellent in terms of communication and have been very helpful with the implementation of our new benefits platform. The team met with us regularly to ensure it was a smooth process and quickly followed up any issues. You feel like it is in safe hands with Vivup"
Solihull Metropolitan Borough Council

"We received an excellent service from VIVUP, the team worked really hard and supported us throughout the process! The platform is very user friendly, and has given us the opportunity to showcase our employee reward package in one place. It's a great way to keep staff updated on all our benefits and health and wellbeing initiatives."
King's College Hospital NHS Foundation Trust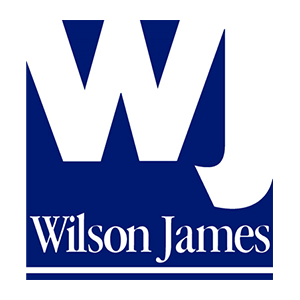 Wilson James Case Study


Learn how Wilson James created a benefits package worthy of commendation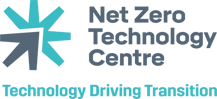 Net Zero Technology Centre Case Study
Discover how Vivup helped Net Zero Technology Centre to streamline and expand their employee benefits to achieve better accessibility

Mid Yorkshire Teaching NHS Case Study
How Mid Yorkshire Teaching NHS Trust created an award-winning benefits package to support their valued workforce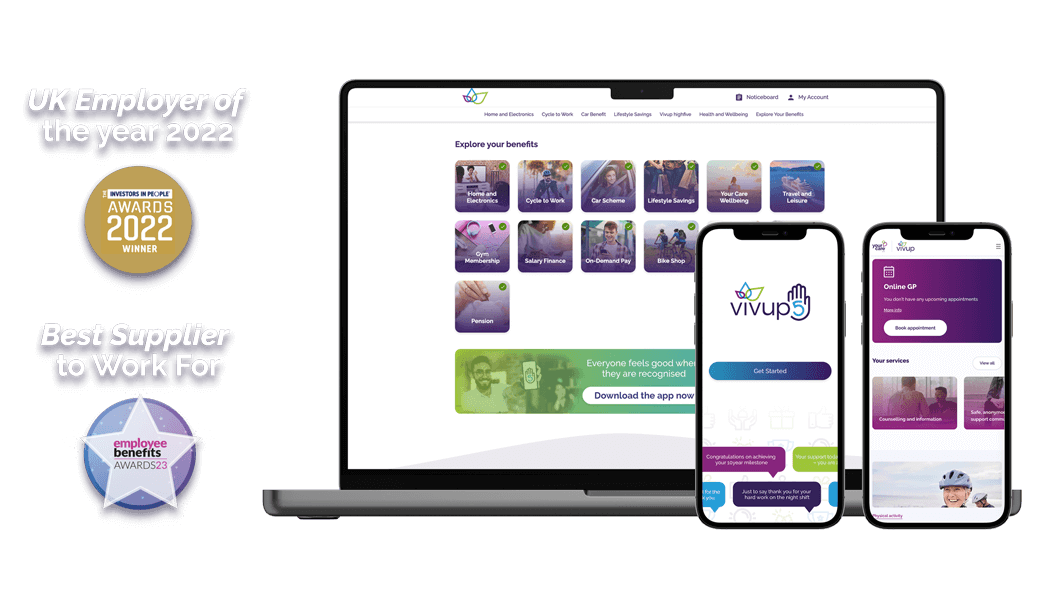 Start improving your employee wellbeing today